Press releases and publications
30 years of Endoscopy at Medi-Globe-Group
Whether minimally invasive diagnostics or therapy: the Medi-Globe Group is considered to be one of the world's leading manufacturers of medical technology and a pioneer for single-use products in urology, gastroenterology and pneumology.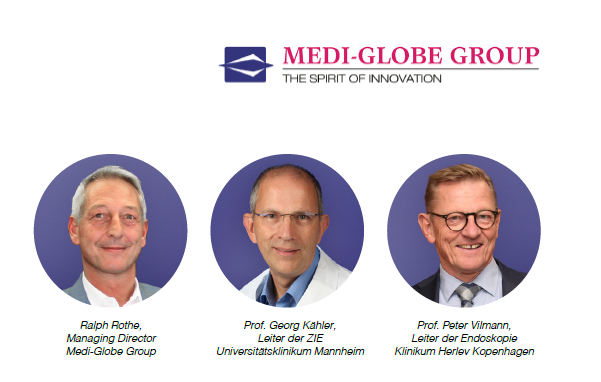 hallo
"Nowadays, many companies produce needle assemblies for EUS-guided biopsy, but all of them copy the original device we developed together with Medi-Globe Group – a "game changer" within endosonography and flexible endoscopy."
– Prof. Peter Vilmann
Managing Director Ralph Rothe talks to Professors Georg Kähler, Head of the Central Interdisciplinary Endoscopy ZIE at Mannheim University Hospital, and Peter Vilmann, Head of Endoscopy at Herlev University Hospital in Copenhagen, about innovations, cooperation between hospitals and industry, and flexible endoscopy in general.
Read what it takes to make a good collaboration and which projects presented a particular challenge in our full interview.

Stefanie Schätzler
Media Contact
Tel:  +49 8032 973-0
Fax: +49 8032 973-339
Medi-Globe-Str. 1-5
83101 Achenmühle
Germany
ENDO-FLEX GmbH
Alte Huenxer Straße 115
46562 Voerde
Germany
UROTECH GmbH
Medi-Globe-Strasse 1-5
83101 Rohrdorf
OT Achenmuehle
Germany
UROVISION GmbH
Pullacher Str. 4
83043 Bad Aibling
83101 Rohrdorf
OT Achenmuehle
Germany
Medi-Globe s.r.o.
Olomoucká 306
753 01 Hranice
Czech Republic
Asept InMed SAS
9 Avenue Mercure
31130 Quint-Fonsegrives
France
ASID BONZ GmbH
Hertzstraße 3
71083 Herrenberg
Germany
Medi-Globe Brasil Ltda.
Av. do Contorno, 2090
– sala 201 E 202 –
Florestabra
Brazil
Endo-Flex d.o.o.
HrvatskaDomašinečka 4
10000 Zagreb
Croatia
UROTECH GmbH, organizační složka
Cihlářská 19
602 00 Brno
Czech Republic
Medi-Globe Group Representation Office APAC
Hong Kong A5, 18/F Rykadan Capital Tower, 135 Hoi Bun Road, Kwun Tong
China
Medi-Globe GmbH
Warehouse
Südring 21
46342 Velen
Germany
Medi-Globe GmbH
Medi-Globe-Strasse 1 – 5
83101 Rohrdorf OT Achenmühle
Germany
Ⓒ Medi-Globe GmbH. All rights reserved.