Press releases and publications
30 years of Endoscopy at Medi-Globe-Group
Whether minimally invasive diagnostics or therapy: the Medi-Globe Group is considered to be one of the world's leading manufacturers of medical technology and a pioneer for single-use products in urology, gastroenterology and pneumology.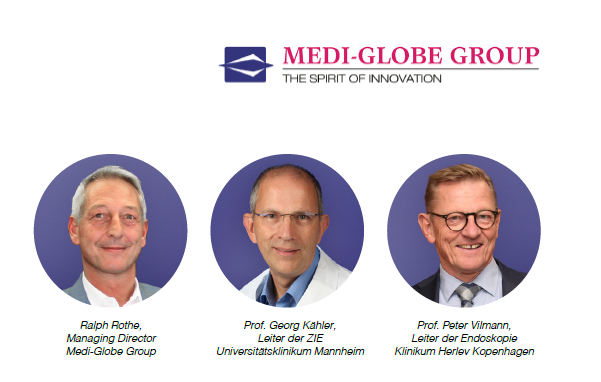 hallo
"Nowadays, many companies produce needle assemblies for EUS-guided biopsy, but all of them copy the original device we developed together with Medi-Globe Group – a "game changer" within endosonography and flexible endoscopy."
– Prof. Peter Vilmann
Managing Director Ralph Rothe talks to Professors Georg Kähler, Head of the Central Interdisciplinary Endoscopy ZIE at Mannheim University Hospital, and Peter Vilmann, Head of Endoscopy at Herlev University Hospital in Copenhagen, about innovations, cooperation between hospitals and industry, and flexible endoscopy in general.
Read what it takes to make a good collaboration and which projects presented a particular challenge in our full interview.

Stefanie Schätzler
Media Contact
Tel:  +49 8032 973-0
Fax: +49 8032 973-339
Medi-Globe-Str. 1-5
83101 Achenmühle
Germany