Press releases and publications
OPENING OF THE MEDI-GLOBE GROUP CAMPUS
Simulation of real surgical techniques and extensive product application testing

We have opened our own training and virtual test laboratory at our headquarters in Achenmühle, Germany. The Medi-Globe Group Campus (MGG Campus) has state-of-the-art equipment with which the company is further expanding its role as an innovative leader in medical technology.
In the future, innovative product ideas for the global customers of the Medi-Globe Group will be tested and optimized with the help of IT-controlled laboratory technology. Another important area in the new campus is the virtual product training for clinicians who will get their own online access to the Campus and can, therefore, get trained digitally. The new facility is also used for external and internal webinars and training courses.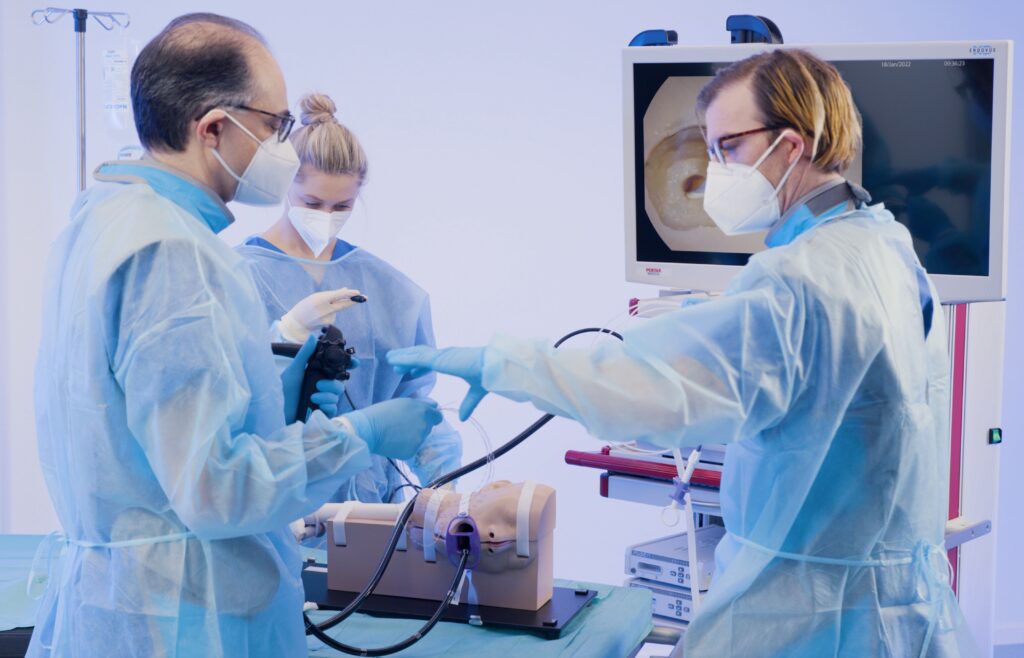 Medi-Globe Group CEO Martin Lehner:
"The MGG Campus stands for the strategic importance that the Medi-Globe Group attaches to innovation management and the training of customers and employees. The state-of-the-art digitized room enables product application testing and the learning of minimally invasive diagnostic and therapeutic procedures under almost real conditions. The campus is a kind of 'real-life laboratory' at the interface between our development department and clinicians in urology, gastroenterology and pneumology worldwide."

Carola Zollmann
Media Contact
Tel:  +49 8032 973-0
Fax: +49 8032 973-339
Medi-Globe-Str. 1-5
83101 Achenmühle
Germany
ENDO-FLEX GmbH
Alte Huenxer Straße 115
46562 Voerde
Germany
UROTECH GmbH
Medi-Globe-Strasse 1-5
83101 Rohrdorf
OT Achenmuehle
Germany
UROVISION GmbH
Pullacher Str. 4
83043 Bad Aibling
83101 Rohrdorf
OT Achenmuehle
Germany
Medi-Globe s.r.o.
Olomoucká 306
753 01 Hranice
Czech Republic
Asept InMed SAS
9 Avenue Mercure
31130 Quint-Fonsegrives
France
Medi-Globe Brasil Ltda.
Av. do Contorno, 2090
– sala 201 E 202 –
Florestabra
Brazil
Endo-Flex d.o.o.
HrvatskaDomašinečka 4
10000 Zagreb
Croatia
UROTECH GmbH, organizační složka
Cihlářská 19
602 00 Brno
Czech Republic
Medi-Globe Group Representation Office APAC
Hong Kong A5, 18/F Rykadan Capital Tower, 135 Hoi Bun Road, Kwun Tong
China
Medi-Globe GmbH
Warehouse
Südring 21
46342 Velen
Germany
Medi-Globe GmbH
Medi-Globe-Strasse 1 – 5
83101 Rohrdorf OT Achenmühle
Germany
Ⓒ Medi-Globe GmbH. All rights reserved.